Look what's new!
We implemented a simple but effective way to save you from having to keep your benefit receipts.  Simply open "My Benefits" and snap an image of your benefits receipt. The image will be stored the app so you can refer to it as shop.  Try it and let us know what you think!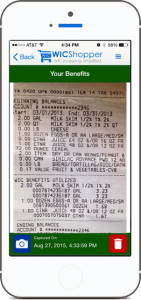 Why can't the app load my benefits automatically?
If you live in Texas, New Mexico or Wyoming, your WIC program uses "Smart Cards" for WIC redemption.  This means that your prescription is stored directly on the chip on your card.  This is very secure, however it means there is no way to load your prescription to WICShopper without special hardware.
What else?
You tell us!  What else would you like to see in WICShopper?  We are trying hard to bring you useful resources, but if we're missing something, let us know about it!  We're great listeners.  Email us at WICShopper@jpma.com