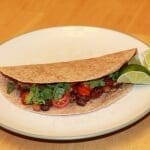 Print Recipe
3-Bean Veggie Tacos
This 30-minute meal makes 10 tacos and will have your whole family wanting more!
Heat oil in a large pan on medium heat and add frozen peppers and onions and cover. Allow to cook covered for 2-3 minutes until thawed.

Uncover and stir, allowing extra water to evaporate for 1 minute.

Add the beans, chili powder, and cumin to the pan and stir for 2-3 minutes.

Add the cheese, cilantro, and juice of the lime and mix in until heated.

Warm the tortillas in the microwave for 30 seconds and serve with the bean mixture.
Use leftover chicken, beef, or pork in place of half the beans
Use fresh peppers if available
Add a small can of corn, rinsed & drained
Try corn tortillas instead of wheat
Serve over brown rice if you don't have tortillas
Use leftovers for a taco salad the next day