For over 25 years, Cooking Matters has empowered families with the skills to stretch their food budgets and cook healthy meals so their children get nutritious food at home.  Watch the video below to see why Cooking Matters!
Your family can eat healthy without breaking the bank. Our budget-friendly recipes and tips will show you how.
Dollars worth of food the average American family throws out annually.
Tap to see 10 tips to reduce wasted food
You can save money and waste less with a few smart shopping and cooking tips.
It all starts with the cart.
Wasting less food begins at the grocery store. Live by the motto "Buy what you need, and eat what you buy." Always have a plan and a list before going grocery shopping. Check your pantry and fridge before you head to the store to make sure you're buying what you really need.
Buy fresh produce a week at a time.
Buy fresh fruits and vegetables in bulk only if you will use them before they go bad. If you are able to get to the grocery store weekly, buy only enough fresh produce to last that week.
Cook with canned and frozen fruits and vegetables.
They can be a good solution if you aren't sure you'll be able to use up fresh foods before they go bad. Bonus: they are often more affordable than fresh and can be even more nutritious.
Stock your pantry.
A well-stocked pantry can be the secret to whipping up a tasty meal from food that would otherwise go to waste. Read our 10 Tips to Stock Your Pantry.
Adapt recipes to your needs.
Learn to adjust recipes to meet your needs and use up what's in your fridge. Make changes to a recipe based on the foods you have at hand, including leftovers.
Make the freezer your friend.
Freeze bread when it won't be used right away, or if you have some leftover from a meal (bread can be stored in a freezer for up to 6 months). Freeze leftover vegetables for use in later soups or stir fries. Chop and store fresh fruits in freezer to use for Fruit Smoothies.
Use up fresh fruit before it goes bad.
Combine fruits into a fruit salad or top cereal with sliced fruit. Cook berries, apples or pears into a tasty crisp or crumble. Use overripe fruit in muffins, breads, or pancakes.
Use up fresh vegetables before they go bad.
Add vegetables to soups, stews, casseroles, pastas, sauces, or omelets. Combine vegetables and a little salad dressing for a side dish or snack.
Transform leftovers into a new meal.
Transform leftover mashed potatoes into a hearty soup by combining them with stock, a splash of vinegar, onions, carrots and any other veggies you have on hand.
Stretch ingredients over multiple meals.
Use ingredients more than once to save money and avoid food waste. Add veggies to pasta or combine to make a mixed salad.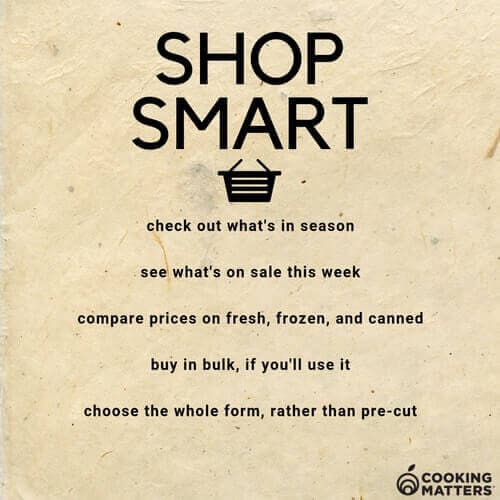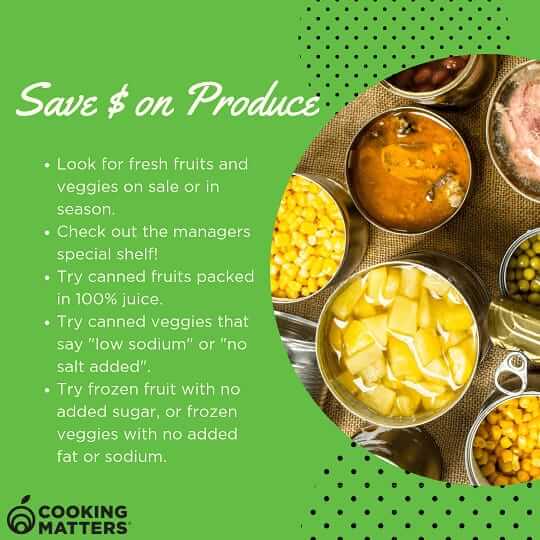 VIDEO: How to Compare Fresh, Frozen and Canned Produce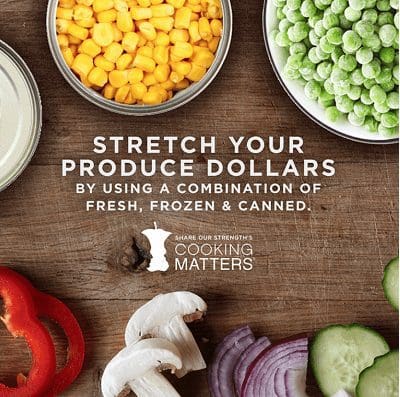 VIDEO: How to Compare Unit Prices of Groceries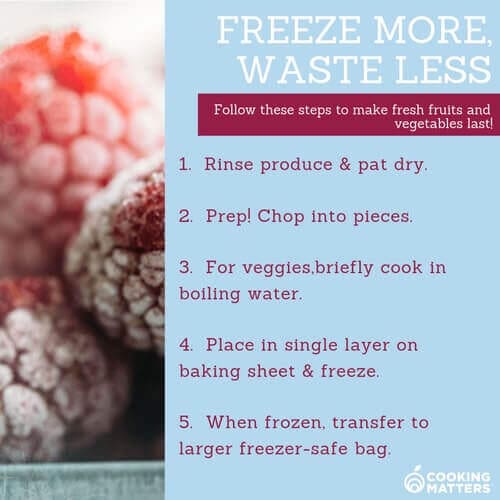 A well-stocked pantry is key to saving you time and money.
No more last-minute trips to the store to grab an ingredient you missed. And no more spending an extra $10 on something you just couldn't pass up while you were there! Follow the tips below to keep ingredients for quick and healthy meals on hand.
Tap for 10 tips for stocking your pantry
1. Hold on to whole grains.
Fill your pantry with whole grain pasta, brown rice, barley, rolled oats, and other whole grain favorites. Stock up when you find a good sale. Or, buy in bulk. Bulk bins often have better unit prices than packaged grains.
2. Bet on beans.
Canned or dried beans add bulk to soups, salads, and pastas. Swap in beans in place of half the meat in tacos or other dishes. They are less expensive and lower in saturated fats. Look for low-sodium or no-salt-added when buying canned.
3. Don't forget fruits and veggies.
Canned produce was picked at its peak, so it's full of great nutrients. Serve canned fruits or applesauce (no sugar added or canned in their own juice) as quick snacks for kids. Canned corn or green beans make quick and easy side dishes. Canned tomatoes can be used in pastas, soups, casseroles, and many other meals.
4. Feature fish.
Another item you may not think of buying canned is fish. But canned fish is a great secret for getting more heart-healthy fish into your diet in an affordable way. Use canned tuna salmon to add protein to salads, casseroles, and pasta.
5. Nosh on nuts.
Nuts and dried fruit make great pantry items. Throw into homemade trail mix for an easy snack. Add to hot cereals, baked goods, or yogurt to pack a punch. Throw onto salad or sautéed greens to add sweetness and crunch.
6. Think outside the cereal bowl.
Stock up on whole grain, low-sugar cereals when you find a good sale. Add to trail mix for a healthy snack. Or, crush and use as a crispy coating for meat, poultry, and fish.
7. Fill your pantry with flavor.
Vinegars and other condiments, like Dijon mustard, are great for quick, homemade salad dressings. Or use them to make a flavorful marinade for proteins or vegetables. Apple cider, red wine, rice, and balsamic vinegars are all good options.
8. Spice things up.
Speaking of flavor, keep the dried herbs and spices you use often on hand. Use to add taste in place of extra salt or fat.
9. Invest in healthy fats.
Oils made with healthy fats are great for sautéing, baking, roasting vegetables, making salad dressings, and more. Canola oil is a lower-cost healthy choice best used for cooking. Olive oil may be worth the extra cost when making dressings or vinaigrettes.
10. Buy basic baking items.
Keep basic ingredients like flour, baking soda, and baking powder stored properly in your pantry. Use them to transform one ingredient into a complete dish. Got overripe apples or bananas?