Easy and delicious these wraps make a great appetizer or light meal and each wrap contains half a cup of vegetables
Each wrap contains 1/2 cup of vegetables per serving.
Replace cooked chicken with canned tuna or salmon.
Great way to use leftover cooked chicken.
You can use canned chicken.
Replace lettuce with whole wheat tortilla.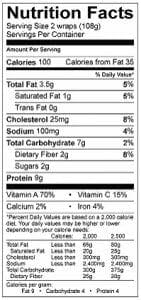 Recipe adapted from: Your Plan to Eating More from Fruits & Veggie More Matters
This material was funded by USDA's Supplemental Nutrition Assistance Program - SNAP. SNAP helps low income people buy nutritious food for a better diet. To get more information contact the CT Department of Social Services at 1- (855) 626-6632 or WWW.CT.gov/dss . USDA does not endorse any products, services, or organizations. Provided by Department of Public Health in partnership with the University of Saint Joseph. This institution is an equal opportunity provider.