These stuffed potatoes are hearty enough for a main course.
Replace cheddar cheese with low-fat cheese.
Replace chicken with turkey, beef, or pork.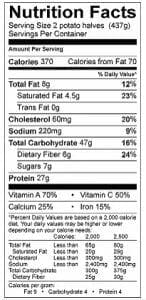 Recipe adapted from http://www.whatscooking.fns.usda.gov/recipes/supplemental-nutrition-assistance-program-snap/meaty-stuffed-potatoes
This material was funded by USDA's Supplemental Nutrition Assistance Program - SNAP. SNAP helps low income people buy nutritious food for a better diet. To get more information contact the CT Department of Social Services at 1- (855) 626-6632 or WWW.CT.gov/dss . USDA does not endorse any products, services, or organizations. Provided by Department of Public Health in partnership with the University of Saint Joseph. This institution is an equal opportunity provider.