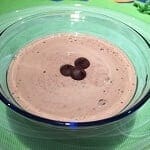 Print Recipe
Banana Chocolate Pudding
Creamy banana and chocolate pudding. Try it with peanut butter, butterscotch, or caramel flavors as well!
Open the package of tofu, drain excess liquid, and place into a blender or food processor.

Add the cocoa powder, chocolate chips, banana, vanilla extract, and milk. Blend until consistency is smooth.

Garnish with desired topping such as WIC cereal, fresh fruit, nuts, or oats.
Substitute the milk for preference or allergy
Use different chips such as dark chocolate, semi-sweet chocolate, peanut butter, butterscotch, or caramel
Freeze in paper cups with a popsicle stick
Top with fresh fruit such as berries or apples
Top with oats or granola