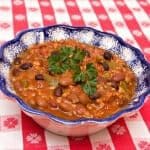 Print Recipe
Quick Bean Chili
This 20-minute recipe has tons of flavor and is perfect on a cold day!
Heat a pot on medium heat and add oil.

Chop the onion, pepper, and garlic and add to the pan once the oil begins to sizzle. Sauté for about 3 minutes until the onion turns clear.

Stir in water, tomato paste, chili powder, cumin, garbanzo beans, kidney beans, black beans, broth, and diced tomatoes. Simmer for about 8-10 minutes.

Remove from heat, add cilantro, and serve with plain yogurt & cheese.
Chef Tips
Try using frozen vegetables instead
You can use ketchup or marinara sauce  instead of tomato paste if you don't have it
Add ground beef, pork, turkey, or chicken for a heartier version. Add it in the beginning with the onions!
Adding quick cooking rice such as Uncle Bens
Add fresh spinach, kale, frozen peas etc. at the end for more veggies