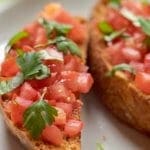 Print Recipe
Bruschetta
Easy to make Bruschetta recipe with tomato and basil
Slice bread into 1/2-inch thick slices.

Brush oil on the slices.

Grill slices of bread on both sides for 1 minute per side.

Remove from grill.

Mix tomatoes, basil, salt, pepper and garlic in a large bowl.

Top each slice of grilled bread with tomato mixture; serve.
Optional:
Top mixture with shredded cheese. Place
back on grill until cheese is melted.