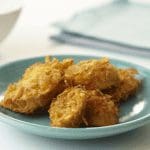 Print Recipe
Sweet Plantains
As plantains ripen their color changes from green to yellow to black and their flavor becomes sweeter. For this recipe choose plantains with almost black skin and soft flesh.
Preheat oven to 450°F and coat a baking sheet with cooking spray. Set aside.

Peel plantains. Diagonally cut into 1/2-inch-wide slices. Lightly coat on both sides with cooking spray.

In shallow dish stir together corn flakes cereal, sugar

Roll plantain slices in cereal mixture and press cereal onto both sides of slices

Place slices in single layer on baking sheet coated with cooking spray. Bake for10 to 15 minutes or until golden brown and tender.