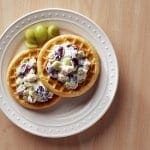 Print Recipe
Curried Grape and Chicken Salad on Waffles
This refreshing version of chicken salad looks to the East for its flavorings of soy sauce and curry. Red grapes and green celery add crunch, flavor and color to the mix. Serve it on toasty waffles for scrumptious open-face sandwiches.
In small bowl stir together yogurt, soy sauce, curry powder and pepper. Set aside.

In medium bowl toss together chicken, grapes and celery. Add yogurt mixture. Toss until combined. Refrigerate for up to 2 hours (if desired).

Before serving, toast waffles according to package directions. Stir chicken mixture and spoon on top of waffles. Serve immediately.