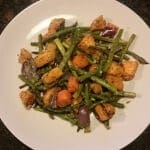 Print Recipe
Roasted Spring Vegetable Medley
Roasted Spring Vegetable Medley with onion, carrot, asparagus, potato and parmesan
1

medium red onion, peeled and chopped

3

carrots

peeled and chopped

1

bunch

asparagus, trimmed and cut in thirds

2-3

medium potatoes, quartered

(red, white, or sweet potatoes)

1

tbsp

olive oil

2

tsp

garlic powder

2

tsp

Italian seasoning blend

pinch

salt

pinch

pepper

1

tbsp

Parmesan cheese
Preheat the oven to 425°F and spray a baking sheet with cooking spray.

Spread chopped vegetables on the baking sheet and drizzle with oil. Toss lightly to combine.

Sprinkle garlic powder, Italian seasoning, and salt and pepper evenly over the veggies. Toss lightly to combine.

Bake for 30 minutes, stirring occasionally, until vegetables are browned.

Let cool, top with parmesan cheese and serve.
Substitute veggies for a winter vegetable mix: 4 carrots, 1 large sweet potato, 1 butternut squash, and 4 beets
Use curry powder in place of Italian seasoning
Substitute with your preference of vegetables