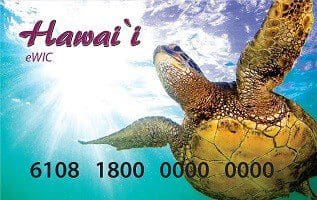 Start here!
We welcome you and your family to the Hawaii WIC Program. Please call your local WIC clinic if you have any questions about appointments, your food package, or nutrition. 
Are you new to WIC?  Please watch the Hawaii WIC Orientation video below!
WIC Q & A
Q: Do I have to buy all of my WIC foods?
A: No, you are not required to buy all of the WIC foods provided to you.
Q: Can I replace foods I don't use with another food?
A: A few substitutions are allowed for some foods. Contact your WIC clinic to discuss your options and to have your checks or benefits changed. No substitutions may be made at the store. You must get what's printed on the check or Benefits List if you choose to purchase that food using your WIC checks or eWIC card.
Q: May I feed my WIC foods or my child's WIC foods to other members in my household?
A: WIC foods are meant only for individuals participating on the Program. If those in your home receiving WIC checks or benefits do not eat a certain WIC-provided food, ask your clinic staff if there is an allowed substitution or have them remove it from your checks or benefits. 
Q: Will my benefits roll over to the next month if they are not used?
A: No. Any WIC food benefits not purchased that month will not carry over to the next month.
Q: What can you tell me about breastfeeding?
A: Breastfeeding is one of the best things you can do for yourself and your baby. It's common for moms to have lots of questions about breastfeeding or need additional support. That's ok! WIC is here to help. Your local WIC office has breastfeeding specialists available to answer your questions and offer services that can help you reach your breastfeeding goals.  Just ask!
Here's some additional information and resources to help you keep breastfeeding after going back to work or school.
Q: Can I get organic food on WIC?
A: Yes, there are several WIC-approved foods that have organic options.  Organic choices are included for baby food fruits and vegetables; fresh, frozen, and canned fruits and vegetables, soymilk, tofu, whole wheat pasta, and canned beans.  For specific brands and types, please refer to the WIC Approved Food List.
Q: Can I buy infant rice cereal with my baby's WIC benefits?
A: No.  Infant rice cereal is not an approved WIC food due to levels of arsenic that have been found in some infant rice cereal products.  If you have infant cereal as part of your WIC benefits, you can choose infant oatmeal, multigrain, whole wheat, and barley cereal.  To learn more about this, click here.
Find a WIC Clinic
Use the "Find a WIC Office" button in the WICShopper app. You can get directions to your clinic and call them right from the app.
Find a WIC Store
Use the "WIC Stores" button in the WICShopper app
Shopping Tips
Don't forget to bring your WIC checks or eWIC card with you to the store!
Scan products in the WICShopper app to make sure they are WIC eligible.  Remember to verify that you actually have the benefits to purchase the product!
Use your Hawaii WIC Approved Foods List in the WICShopper (or your printed version) to see the WIC foods you can buy.
Buy store brands, shop for sales and specials, and use manufacturer and store coupons.
Scanning Products
Q: I scanned some foods or key entered a UPC number and see some different messages.  What do they mean?
A:
ALLOWED 

– This items is allowed for Hawaii WIC and you have the WIC benefits to purchase this item!

NO ELIGIBLE BENEFITS 

– This is a WIC eligible item, however you DO NOT have the benefits available to purchase it.  Either you were not assigned benefits for this item, or you do not have enough remaining benefits to purchase it.

NOT A WIC ITEM

 – This means WIC hasn't approved this item. If you think you should be able to buy this food with WIC food benefits let us know by using "I couldn't buy this!" [HC(3] located in this app.

Unable to identify

– This means the item is not in the food list but we weren't able to connect to the WICShopper host to see if it was added in the last few days.  Most likely, this isn't a WIC eligible item.
Q: I tried scanning fresh fruits and vegetables.  Either they don't scan or they come up as not allowed. Why?
A: In many cases, WICShopper can't scan fresh fruits and vegetables and sometimes stores use their own packaging that wont be in the list of approved products.  However, all whole, pre-cut , sliced or individual serving sizes without sauces or dips are allowed. There are some other rules, so refer to your food list in the app for more details.
I couldn't buy this!
Q: When would I use, "I couldn't buy this"? And what is it?
A: "I couldn't buy this!" lets you tell WIC when a food item you're trying to buy is denied at the register. When you use, "I couldn't buy this!" in the WICShopper app, we will get a notice at the State WIC office. We review all items you tell us about and work with stores to make allowed foods available to you!
WIC Rights and Responsibilities
WIC Rights and Responsibilities
Rights and Responsibilities
We're excited to see you at WIC today and are happy to help you!
I have the right to:
Get checks to buy healthy foods. I know WIC does not provide all the food I need.
Get information about healthy eating and active living.
Receive help and support with breastfeeding.
Receive information on immunizations and other health services that may help me.
Fair and respectful treatment from WIC staff and store employees.  If I have not been treated fairly, I can talk to a WIC supervisor. I can ask the WIC director or the State WIC Office for a conference or a hearing if I disagree with decisions regarding my eligibility.
Civil rights protection. WIC Program eligibility standards are the same for everyone regardless of race, color, national origin, sex, age or disability.
Privacy. WIC's privacy policy is found on the back of this form.
My responsibilities:
I agree to give true and complete information about:
My income. I will tell staff about all income sources in my household. I will report any changes.
My participation in Medicaid, Food Stamps (SNAP), or the Family Employment Program (TANF). I will let WIC know if I stop participating in a program that made me eligible for WIC.
My breastfeeding status. I will notify WIC if I reduce or stop breastfeeding.
My pregnancy status.
My address. I will report changes to my address or contact information. I can ask for a Verification of Certification (VOC) if moving out of state. This will make it easier to get on WIC in the new state.
I agree to follow the rules. I will:
Treat clinic staff and store employees with respect. I won't swear, yell, threaten or harm anyone.
Use my WIC foods only for the person whose name is on the checks.
Return extra foods I can't use to the clinic.
Never offer to sell, give away, or trade my WIC foods or checks.  This includes posting them online, or returning them to the store. Any food I offer to sell or give away that is the same as the WIC food I received will be assumed to be WIC food. I will be asked to pay the program back for the food.
Use my checks in the correct month printed on the check.
Get checks from only one WIC clinic each month. I understand that dual participation is illegal.
Keep my appointments or call the clinic to reschedule. I understand I can be taken off the program if I do not pick up my checks for two months in a row.
Bring my WIC ID packet with me when I go to the clinic or spend WIC checks at the store.
Protect my WIC checks like cash, keeping them from being lost, stolen or destroyed.
Tell WIC staff if my checks are lost or stolen. I won't use checks I reported as lost.
Buy only the foods listed on my check and in the Hawaii WIC Authorized Foods booklet.
Not make any changes to my checks.
Sign my checks after the correct purchase price has been filled in by the cashier.
Follow the rules and instructions in the Hawaii WIC Authorized Foods booklet.
Agreement:
I have read or been told of my rights and responsibilities (printed on the front). I know that if I do not follow these responsibilities, I may be asked to repay for benefits or I or my children may be taken off the WIC program.
This certification is being made with the use of federal funds. I certify that the information I have given is correct to the best of my knowledge. Program staff may check all information I have given to the clinic. I know that any untrue claim that is said or done intentionally to receive food benefits (for instance: making a false or misleading statement or misrepresenting, concealing, or withholding facts) may result in me having to pay the state agency for the value of food improperly given to me, and may subject me to civil or criminal prosecution under State and Federal law.
If I have chosen to designate a proxy, he/she can pick up and redeem my WIC checks for me. My proxy may also bring my child/children to the clinic if follow up visits are needed to have their height and weight checked, and/or blood screened for low iron. I understand that I am responsible for the actions of my proxy. I must ask my proxy for any information or notifications given to them. I understand that I, the endorser, or an additional endorser that I have designated, must be present at certification appointments.
WIC Privacy Policy:
WIC respects your right to privacy. As a WIC participant, you may receive reminder text messages, phone calls, letters, postcards, or emails. You may request not to receive these reminders.
Information about your participation in the WIC program may be shared for non-WIC purposes with other health and nutrition programs that serve persons eligible for the WIC program. The executive director of the Hawaii Department of Health has authorized the disclosure and use of confidential WIC information to certain programs to see if you qualify for their services; to conduct outreach; to share needed health information with programs you are already participating in; to streamline administrative procedures between programs; and to help assess the overall health of Hawaii families through reports and studies. You may ask WIC staff for more information about these programs.