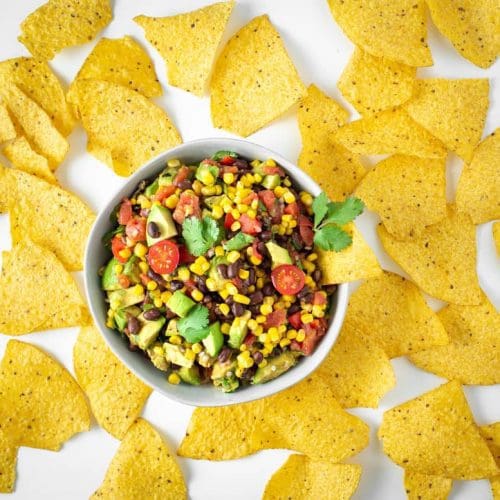 Avocado, Bean, and Corn (ABC) Dip
Kids love chips and dip. This is a great salsa we adapted from "Coastal Living". Our preschool curriculum students learn to make this this dip in their avocado lesson. We renamed the recipe"ABC Dip"(for avocado, beans and corn!) It can be served with tortilla chips or it can also be served as a vegetarian entree with a side of rice and veggies. If preparing ahead, combine all ingredients and refrigerate. The avocado can be added just before serving. It's true that avocados are high in fat, but it turns out that the fat in avocado is monounsaturated fat, the kind that actually lowers cholesterol. Studies have shown that daily consumption of avocado can significantly reduce LDL cholesterol (the "bad cholesterol") and increase HDL (or "good cholesterol"). Because avocado is high in fat, it's also high in calories, so consumption should be limited to about 2 or 3 tablespoons a day. However, when compared to other creamy spreads like butter or cream cheese, avocados are still lower in calories with more health benefits. Try a slice or smear of avocado on a bagel or sandwich instead of cream cheese or mayonnaise. Avocado is also a great first food for babies which can be mashed and fed to infants without cooking.This dish can be prepared without cilantro for those who don't enjoy it. It is believed that for some people distaste of cilantro can actually be a genetic trait. Those who don't like it often describe the taste of cilantro as "soapy", probably because of the presence of fat molecules called aldehydes that are also present in soaps. Some researchers suggest that even those who dislike cilantro can change their aversion with repeated exposures. Of note, crushing cilantro may change the aldehydes and lessen the unpleasant soapy smell for those who don't like it.
Ingredients
15

ounce

can black beans

drained and rinsed well

1

cup

corn

frozen or fresh kernels

14

ounce

can fire roasted diced tomatoes

with juice

2

cloves

garlic

minced or pressed

¼

cup

cilantro

chopped

3

tablespoons

lime juice

¼

cup

chopped onion

red or yellow

1

teaspoon

ground cumin

½

teaspoon

chipotle peppers in adobo sauce

minced

½

teaspoon

kosher salt

2

avocados

diced
Instructions
Combine the all the ingredients except the avocado and stir gently. Add avocado and fold until mixed in. Serve with chips or rice.