This recipe provided by eatFresh.org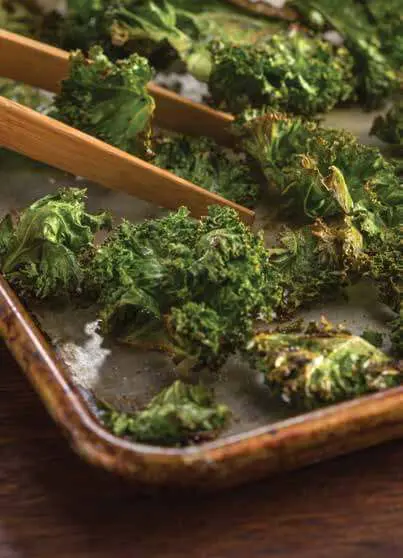 Ingredients
Nonstick cooking spray

1

bunch kale

2

tablespoons

Vegetable oil

1/4

teaspoon

Soulful Seasoning
Instructions
Preheat oven to 350°F. Line 2 baking sheets with aluminum foil and lightly spray with nonstick cooking spray. Set aside.

Separate leaves from center ribs of each kale leaf. Discard ribs. Tear leaves into small pieces.

Lay leaves on prepared sheets, sprinkle with vegetable oil and toss. Sprinkle with Soulful Seasoning.

Bake in the oven for about 3 to 5 minutes. Remove tray from oven and turn over each leaf. Cook another 3 to 5 minutes or until crisp but not charred.

Transfer leaves to plate and serve.
Notes
Storage Tips
Store any leftover kale chips tightly sealed and eat soon!
Nutrition Info
Total calories: 

110
Total fat: 

4 g
Saturated fat: 

0 g
Carbohydrates: 

17 g
Protein: 

5 g
Fiber: 

4 g
Sodium: 

70 mg
Nutrition
Calories:
110
kcal
|
Carbohydrates:
17
g
|
Protein:
5
g
|
Fat:
4
g
|
Sodium:
70
mg
|
Fiber:
4
g