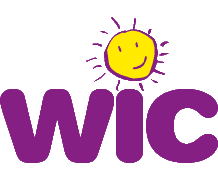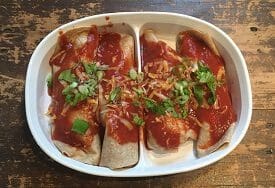 Ingredients
1

lb

ground beef

1

medium onion, chopped

1-2

cups

chopped spinach

3/4

cup

shredded cheddar cheese

plus 1/4 cup for garninsh

1/2

cup

plain yogurt

1

tsp

salt

1/4

tsp

pepper

6

whole wheat or corn tortillas

sliced green onions

for garnish

For the Enchilada Sauce

1

15 oz can low-sodium tomato sauce

1/4

cup

water

1

minced garlic clove

1 1/2

tsp

chili powder

1/2

tsp

oregeno

1/4

tsp

cumin
Instructions
Crumble beef into a 2-quart microwave-safe casserole pan and stir in the chopped onion. Cover loosely and microwave on high for 4-6 minutes until the beef reaches 155°F. Stir every 2 minutes.

Once the meat is cooked, stir to break up the meat and drain the extra fat into a spare bowl and throw away when cool.

Stir in the spinach, cheese, yogurt, salt and pepper. Cover and set aside.

Warm tortillas in the microwave if desired.

Spoon 1/3 cup filling into the center of each tortilla and fold up. Lay flat in the casserole pan with the seam facing down.

Mix all ingredients for the enchilada sauce in a microwave-safe container. Cover and Microwave on high for 4-6 minutes, stirring every couple of minutes.

Pour sauce over tortillas, cover, and microwave again on high for 2-4 minutes.

Garnish with shredded cheese.
Notes
Try using ground turkey instead of beef
Add extra vegetables such as chopped tomatoes or peppers
Try different types of shredded cheese
Add red pepper flakes for a little spice
This can also be made on the stove top using a sauté pan
Use frozen or fresh spinach