This recipe provided by eatFresh.org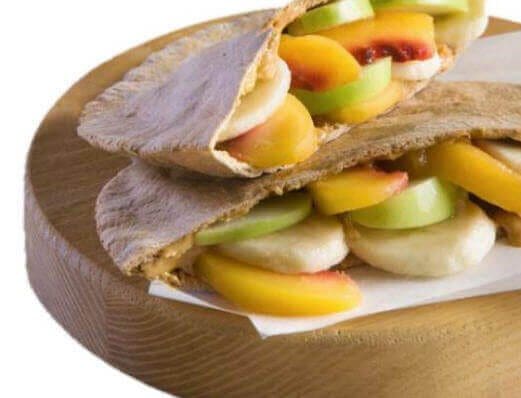 Ingredients
2

pita pockets

1/4

cup

reduced fat chunky peanut butter

1/2

apple

1

banana

1/2

peach
Instructions
Cut pitas in half to make 4 pockets and warm in the microwave for about 10 seconds to make them softer.

Carefully open each pocket and spread a thin layer of peanut butter on the inside.

Fill with a combination of apple, banana, and peach slices. Serve.
Notes
Try these pitas with other fruits such as nectarines, grapes, strawberries, or kiwifruit.
Serving size: ½ piece
Total calories: 228 Total fat: 9.3 g Saturated fat: 1.4 g Carbohydrates: 31 g Protein: 7.5 g Fiber: 4.7 g Sodium: 247 mg