The Potato
Your humble, nutrient-dense, vegetable.
Learn everything you need to know about potatoes by tapping 'Show Me' below! Dig into potato nutrition and cooking methods or discover the best ways to store potatoes by checking out the storage guide. Learn fun history facts about potatoes and get answers to the most frequently asked potato questions.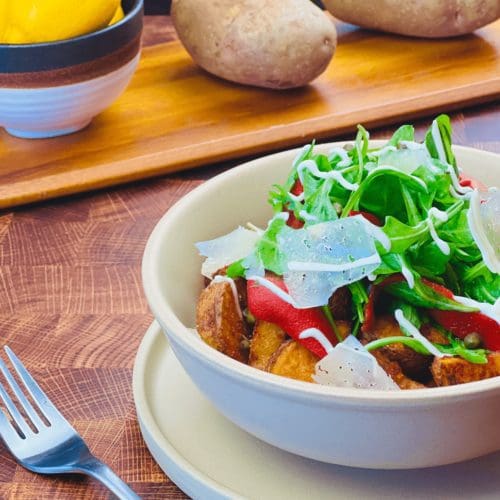 WIC Spanish Potato Salad Bowl
Crispy and Smoky Spiced Potatoes topped with a Red Pepper and Greens Salad, served with a light mayonnaise dressing
Ingredients
Crispy Roasted Russet Potatoes:

2

pounds

Russet Potatoes

cut into 1-inch pieces

3

tablespoons

Vegetable Oil

1

tablespoon

Paprika

1

tablespoon

Salt

1

teaspoon

Ground Black Pepper

Light Mayonnaise Dressing:

½

cup

Mayonnaise

3

tablespoons

Lemon Juice

2

each Garlic Cloves

finely chopped

Red Pepper and Arugula Salad:

6

cups

Salad greens

2

each Red Peppers

cored, seeded, sliced

2

tablespoons

Vegetable Oil

4

tablespoons

Vinegar

2

each Garlic Cloves

chopped

1

teaspoon

Salt

1

teaspoon

Paprika

1

tablespoon

Oregano

dried
Instructions
Preheat the oven to 450 F

In a large bowl combine the potatoes with the oil, paprika, salt, and pepper. Toss well to combine and spread out on a nonstick baking sheet. Roast the potatoes in the oven for 20-25 minutes or until they are golden and crispy, turning them over on the pan about halfway through the cooking process. Remove from the oven and keep warm.

While the potatoes are roasting prepare the ingredients for the salad and the dressing. Wash and dry the salad greens and set aside. To make the marinated peppers, combine the peppers in a medium bowl along with the olive oil, vinegar, garlic, salt, paprika, and oregano, stir gently to combine and set aside.

To make the dressing, combine the mayonnaise, lemon juice, and garlic in a small bowl until everything is combined.

To serve, place the crispy warm potatoes in the bottom of some shallow serving bowls. Lightly toss the arugula with the peppers and portion the salad on top of the potatoes. Drizzle the top of each dish with the dressing. Serve immediately. Enjoy!