This recipe provided by eatFresh.org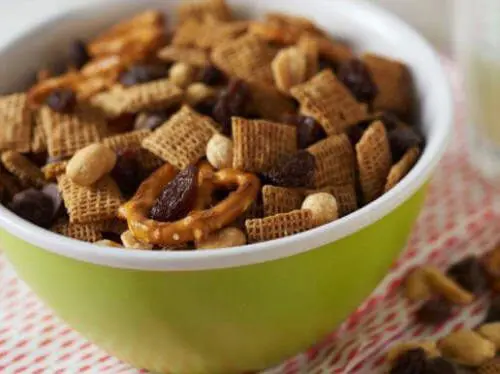 Ingredients
3/4

cup

Unsalted roasted peanuts

1/4

cup

Raisins

1 1/4

cups

Crispy whole wheat cereal squares

1

cup

Mini pretzels

1/3

cup

Chocolate chips
Instructions
In a large bowl, combine peanuts, raisins, cereal, pretzels, and chocolate chips.

Place in an air-tight container or zip-top plastic bag. Store in a cool, dry place.
Notes
Use any of your favorite nuts or dried fruit in place of the peanuts and raisins.
Use any whole grain, low-sugar cereal in place of the crispy whole wheat cereal squares.
This snack is high in protein, iron, and fiber. However, it can also be high in calories. Pack ½ - cup portions.
Cut this recipe in half to save money.
Serving size: ½ cup Total calories: 190 Total fat: 10 g Saturated fat: 3 g Carbohydrates: 25 g Protein: 5 g Fiber: 3 g Sodium: 85 mg