The Potato
Your humble, nutrient-dense, vegetable.
Learn everything you need to know about potatoes by tapping 'Show Me' below! Dig into potato nutrition and cooking methods or discover the best ways to store potatoes by checking out the storage guide. Learn fun history facts about potatoes and get answers to the most frequently asked potato questions.
Chili Mac Stuffed Baked Potato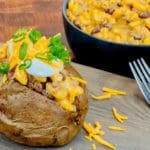 A hearty and fluffed baked potato stuffed with a classic: Chili Mac N' Cheese! Topped with a dallop of tangy sour cream a sprinkle of sharp cheddar cheese and crisp fresh green onion.
Ingredients
4 each (610 g Russet Potato (5.3 oz))
1 cup 150g Elbow Macaroni
1 gal Water
2 Tbsp 34g Salt
1 cup 226g Chili with Beans (Precooked, 15 oz can)
1 cup 112g Cheese (Pasteurized Processed)
¼ cup 58g Cheddar Cheese (Shredded)
1 cup 236ml Milk
¼ cup 60ml Sour Cream
¼ cup 26g Green Onion (Chopped)
¼ cup 54g Vegetable Oil (To brush)
Preparation
Gather all ingredients and equipment.
Prepare baked potato. To make the baked potatoes, preheat an oven to 450°F (232C), carefully pierce the potatoes with the tip of a knife and arrange them on sheet pans. Bake the potatoes for 45-55 minutes or until the internal temperature reaches 205°F (96°C). Lightly brush the potatoes with the oil and return to the oven for 5 minutes to crisp the skin. Remove the potatoes from the oven and hold warm until ready to serve.
In a pot, pour ½ gallon of water and 2 Tbsp salt, bring to a boil and add your elbow macaroni and cook for 7-8 minutes. Pour macaroni in a strainer and drain water. And set aside.
Chop green onions and set aside.
To make Chili Mac sauce, cut pasteurized processed cheese in cubes to make it easier to melt. In a pot, add milk and pasteurized processed cheese and stir until thick, then add precooked chili with beans and mix until fully incorporated. Then add cooked pasta into pot and mix until combined with Chili Mac sauce.
To assemble, cut a small slit lengthwise on the top of the potato and fluff potato by squeezing the ends towards the middle of the potato. Scoop ½ cup serving of Chili Mac and lay on the open part of the baked potato, add a dallop of sour cream sprinkle shredded cheddar cheese and chopped green onions and serve immediately.