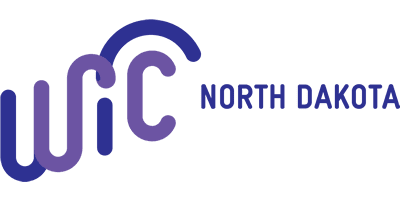 Women, Infants & Children (WIC)
Special Supplemental Nutrition Program
North Dakota WIC wants to see your family happy, healthy and thriving. We support you from pregnancy to delivery and your child from a baby up until your child's 5th birthday 
WIC Q & A
Q: Do I have to get all of my WIC foods?
A: No, it is not a violation if you choose to purchase less or none of the WIC foods prescribed to you.
Q: Can I replace foods I don't use with another food?
A: A few substitutions are allowed for some foods. Contact your WIC local agency to discuss your options and to have your food benefits changed. No substitutions may be made at the store.
Q: May I feed my WIC foods or my child's WIC foods to other members in my household?
A: The WIC foods are meant only for the person whose name is on the checks. If those in your home receiving WIC checks do not eat a certain WIC-provided food, either do not get it at the store or ask the local agency staff to remove it from your checks.
Q: What should I do if I reduce or stop breastfeeding?
A: Contact your WIC local agency. You will meet with a nutritionist and discuss the options available to you.
Q: Will my benefits roll over to the next month if they are not used?
A: No. Any WIC food benefits not purchased that month will not carry over to the next month.
Find a WIC Office
Use the "Find a WIC Office" button in the WICShopper app.  You can get directions to your clinic and call them right from the app.
Find a WIC Store
Use the "WIC Stores" button in the WICShopper app.
Look for a "North Dakota WIC Authorized Retailer" sign.
Shopping Tips
Bring your WIC checks and WIC ID folder with you to the store.
Scan products in the WICShopper app to make sure they are North Dakota WIC-eligible.  Remember to verify that you actually have the foods printed on your checks before purchasing the product!
Use your North Dakota WIC Approved Food List (AFL) in WICShopper (or your printed version) to see the WIC foods you can buy.
Scanning Products
Q: I scanned some foods or entered a UPC number and see some different messages.  What do they mean?
A: Messages are:
Allowed

– This item is WIC approved! One thing to know is you might see an item is allowed, but it's not part of your WIC food benefits, so you can't buy it with WIC. For example, a one year old child gets whole milk. If you don't have a one-year-old child in your family, whole milk won't be part of your WIC food benefits, and you won't be able to buy whole milk at the register. Until WIC benefits link to the WICShopper app, this "allowed" message may not apply to your family's benefits.

Not a WIC item

– This means North Dakota WIC hasn't approved this item. If you think you should be able to buy this food with WIC food benefits, let us know by using the "I couldn't buy this!" button in this app.

Unable to identify

– This means the app can't determine if the item is WIC-eligible. This could be due to not having connectivity in the store. Try connecting to WiFi or finding a spot in the store where you get better service.
Q: I tried scanning fresh fruits and vegetables.  Either they don't scan or they come up as not allowed. Why?
A: The app can't scan certain barcodes on fresh fruits and vegetables or sometimes the stores use their own packaging.
I couldn't buy this!
Q: When would I use, "I couldn't buy this!"? And what is it?
A:  "I couldn't buy this!" lets you tell WIC when a food item you're trying to buy is denied at the register. When you use, "I couldn't buy this!" in the WICShopper app, the WIC state agency will get a notice.  The WIC state agency will review all items submitted and work with stores to make allowed foods available to you!
Disclaimer and Nondiscrimination
Disclaimer and Nondiscrimination